Modularity by Stephen Wilson is now showing at Formation! From now through July, join us in store to view the latest works from Stephen Wilson's Modularity Series featuring Luxury Boxes and Skateboards. The pieces feature the beautiful packaging and materials used by luxury houses like Louis Vuitton, Hermès, Gucci, Dior and more turned into compelling 3D works of art using embroidery, assemblage and collage.

We will be showing and selling select works exclusively at Formation from June 25 - July 31 and will host an Opening Party with free wine tastings throughout the July Fourth weekend. Please note, due to the high demand for these pieces, all purchases are first come first serve and we cannot "hold" any artworks so please come pick out your favorites as soon as possible!
SAVE THE DATE
Modularity by Stephen Wilson Art Show
Formation Boutique, Shops at Solaris, Vail Village
Showing June 25 - July 31
Opening Party & Wine Tasting: July Fourth Weekend
The works featured here are available exclusively at Formation through July 31, 2019.
Save the date and spread the word with this open invite - this is a special event for the Vail Valley that you will not want to miss!



THE MODULARITY SERIES
From the feel of superior materials, to the attention to detail placed into each product, luxury houses like Chanel, Hermès, Valentino, Dior, and Gucci have been creating beautiful products for generations. Every product purchased from these luxury brands comes wonderfully packaged in a beautiful box. Usually we are very hesitant to throw one of these boxes away. They are a status symbol in and of themselves, so, inevitably the boxes usually go into storage somewhere, but are eventually discarded.



THE CONCEPT
All of the boxes start with a concept. Since each piece is unique, this concept depends entirely on the box. Hermès boxes, for example, are more of a blank, orange canvas. The orange is such a luscious color that every other color Wilson uses seems to work with it, as he proceeds to add Hermès scarves to these pieces either as appliqué or as pom-poms. Some of the other boxes like Valentino and Gucci already feature amazing artwork in them, providing Wilson with an inspiring starting point based on what is already printed on the box itself.


"I look at each box as I would a blank canvas before I design what will be stitched and placed on it. Instead of a plain white background, I get to work with luxurious designer boxes."

                                                                 - Stephen Wilson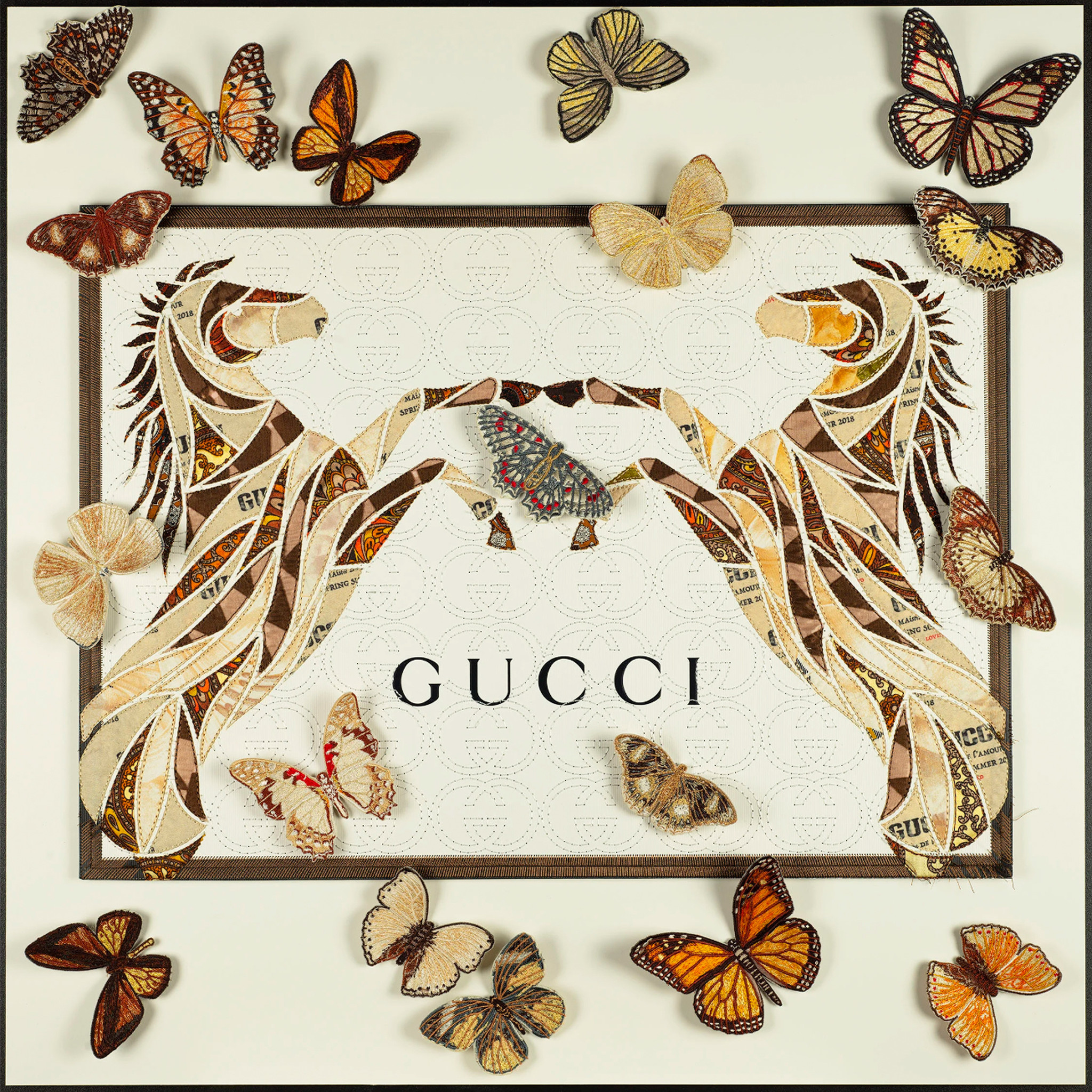 THE EMBROIDERY
Once Wilson decides on the concept, he digitizes the design for each box by hand. Each stitch and section of thread is hand-placed, one stitch at a time, to create the unique piece of art. Once the digitizing process is finished, all of the embroidery is stitched directly through the box, photograph or fabric, which are first carefully flattened and placed on the machine for embroidery. Some of the finished pieces have more than 250,000 stitches on them. Only stitching and appliqué are applied to some of the pieces, while others receive added embellishments.

THE EMBELLISHING
Once the embroidery is finished, the artist decide show to embellish the piece further. The added embellishments could be lace flowers, patches, embroidered butterflies, or laser-cut box pieces. The embellishments and added details are interesting because they are all created specifically for the piece. Every butterfly and flower is stitched in the studio especially for the intended box, ensuring that no two pieces are ever identical.

"Using fabric on the pieces is a very interesting part of the process. The fabric can be used as appliqué or even made into pom-poms. The examples above were created using Luxurious Hermès silk scarves."

                                                                 - Stephen Wilson

THE FINISHING
Finishing and presentation are an important aspect to the piece. Each piece of art is mounted on board and then encased in an acrylic frame. The acrylic frame adds luxury to the piece without the visual distraction of a heavy frame. Since the art appears to float in the frame, the acrylic cases are perfect to mount next to each other. After installing over 40 pieces using this framing system, it is clear that, no matter the size of the pieces, they all look wonderful together.

HOW TO PURCHASE
The best way to purchase is to come into our boutique gallery in Vail, Colorado.


If you are unable to make it in person, if you have questions and/or you have a favorite you want to secure before you can make it in, please call us directly at 970-688-1233 or email us at [email protected] to discuss pricing and availability.


You can also purchase directly online via our website.


For sizing and pricing of all available pieces, please click here. Please note, private pricing sheet will not include availability and you will need to call our reference our online inventory for up to date availability. 

Due to the high demand of these artworks, all purchases are first come first serve and we cannot "hold" any artworks. Additionally, all sales are final regardless of purchase method (includes in person, phone and online sales). 

ABOUT THE ARTIST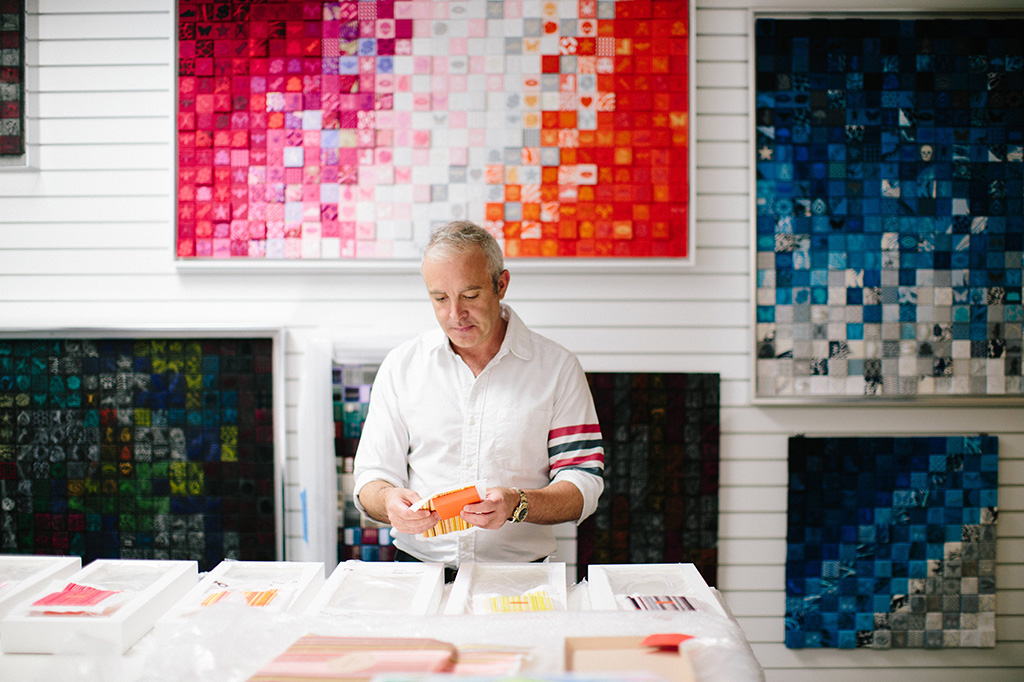 Born and raised in Hoboken, New Jersey, Stephen Wilson is a conceptual artist whose unique medium carries his message. Blending luxury fabric, digital renderings, 3D-printed sculptures, laser-engraved acrylics, and highly detailed embroidery pieces, his manipulation of multiple materials produces wholly original works of art. His early career in the commercial fashion industry, along with a wildly successful embroidery software company, has equipped Stephen with a range of technical skills. He has been an industry leader in both the fashion embroidery and home embroidery world, as well as an industry speaker, writer, and educator. In his fine arts practice, Stephen is deeply interested in the intersection of traditional craft and contemporary culture.